Finding the Line film screening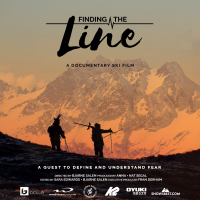 A free screening of the extraordinary film Finding the Line will be held for all South Australian School groups at the Mt Buller Cinema on Wednesday the 18th of July at 6.30pm. it is not to be missed.
See film trailer
X Games gold medalist, FIS world champion and Winter Olympian Anna Segal and her Freeride World Tour
competitor and big mountain skiing sister, Nat Segal are proud to present the Australian tour, supported by The
North Face, of their first feature length documentary, Finding The Line.
The film features an award winning team including director Bjarne Salén (Best Documentary Powder Award,
Best in Snow Banff Film Festival), executive producer Fran Derham (First Love) and AFI nominated editor Sara
Edwards and guest appearances from skiing legends Mike Douglas and Seth Morrison and Freeride World Tour
champion Lorraine Huber.
The ski focused documentary will have its Australian premiere on May 29 in Melbourne at The Astor Theatre.
The film will then be screened on May 30 in Canberra at the Greater Union Manuka and Sydney on May 31 at
The Ritz in Randwick before a Melbourne encore on June 1 at The Lido Cinema.
Finding the Line explores fear, it's paralyzing grip on humans and how it affects our decision-making. The
Australian born and bred Segal Sisters use their skiing to understand fear and how it manifests in the two
siblings' lives.
Throughout their careers as professional skiers, Anna and Nat have both constantly been challenged by fear. Yet,
despite being brought up under the same roof, they have learned to deal with it in almost contrasting ways,
neither leading them to the success they dreamed of.
A heartfelt journey on the knife's edge of big mountains throughout Canada and France pushes them to their
physical and emotional limits. Then the extreme skiing mecca of Alaska pushes them beyond.
The Australian sisters soon realize that the most important lessons lie within each others' approach. Equipped
with greater insight, they negotiate the fine balance between staying in their comfort zone and taking too much
risk, learning that sometimes to move forward, you need to understand what is holding you back.